Derryadd Pallets
Reconditioned Wooden Pallets
Over 40,000 reconditioned wooden pallets in stock at any given time. We stock a wide variety of Standard sized (1200x1000mm) and Euro spec pallet types (1200x800mm)
Reconditioned Wooden Pallets
New Wooden Pallets
All our timber is from sustainable sources. New wooden pallets are available in both ISPM15 heat treated and untreated in various grades and sizes which includes bespoke pallets.
New Wooden Pallets
Packaging & Cases
Derryadd Pallets manufactures a wide range of packaging. From palletised boxes to potato or apple crates we cater for all. We offer both treated and untreated packaging & timber cases.
Wooden Packaging & Cases
UK Standard Pallet 1200x1000mm
Heat Treated ISPM15 & Kiln Dried (Moisture Content under 20%)
Approx Loading (750-1000kg)
---
Heavy / medium weight pallet. Full Perimitter base. UK pallet commonly used in pharmaceuticals / packaging / haulage & general warehousing.

UK Standard Pallet 1200 x 1000mm Heat Treated ISPM15.
Large discounts are applied to quantities over 30 so please contact us to receive a quote. Call 02838 343 446.
Pallet Types
Contact Us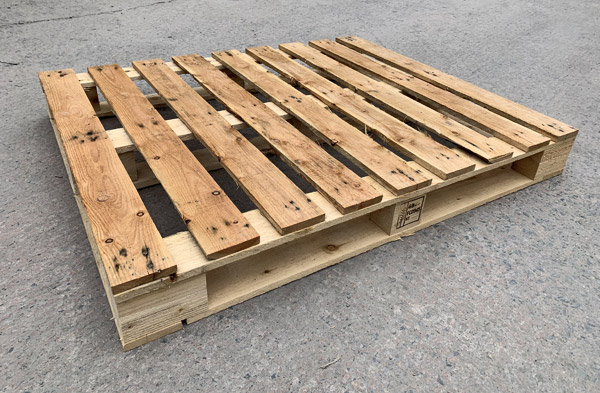 ---
For your wooden pallets, don't hesitate to contact Derryadd Pallets, Northern Ireland.
We are happy to help, call 02838 343 446
Reconditioned Wooden Pallets Northern Ireland
Pallets are collected and delivered to our purpose built facility before being hand sorted and quality inspected by dedicated Pallet Operatives. They are then repaired if necessary using quality recovered materials before being graded to suits our customer's individual requirements. Pallets that pass this process are made available for despatch.
Reconditioned Wooden Pallets